Buffalo Chicken Shepherd's Pie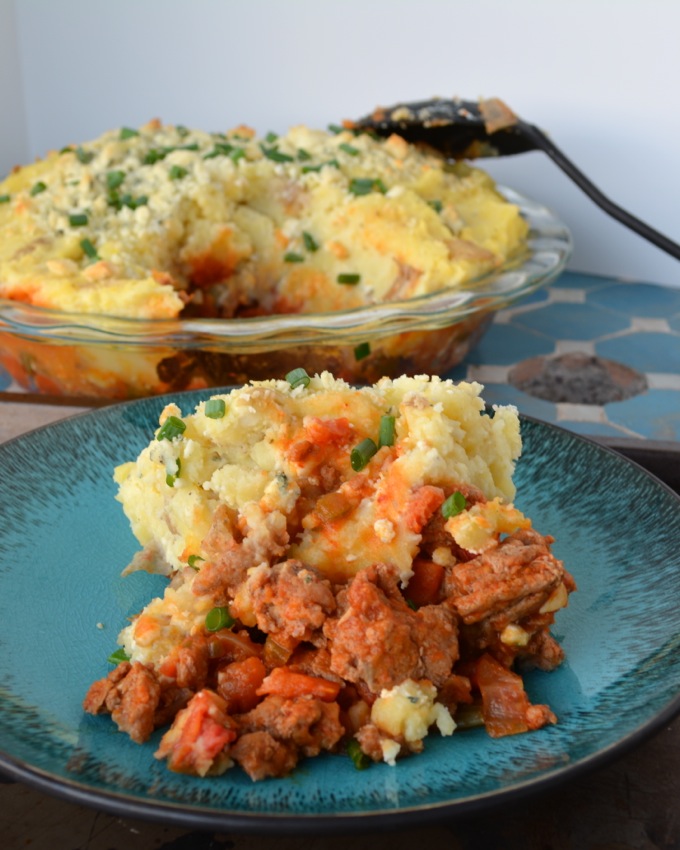 2 tbsp olive oil, divided
1 lb ground chicken
4 celery ribs, diced
4 carrots, peeled and diced
1 onion, diced
4 garlic cloves, minced
1 pint cherry tomatoes, halved
2 tsp smoked paprika
¼ cup chicken stock
1 tbsp tomato paste
¼ cup buffalo sauce (such as Frank's)
4 cups mashed potatoes
6 ounces blue cheese crumbles, divided
Chives, chopped, to garnish
Preheat the oven to 375 degrees.
Heat 1 tbsp oil in a pan over medium-high heat. Add the ground chicken and cook, breaking up with a wooden spoon, until cooked through, about 7-8 minutes. Drain the meat and transfer to a bowl.
Return the pan to the heat and add another 1 tbsp oil. Add the celery, carrots and onion and saute until softening, about 8 minutes. Add the garlic and cook an additional 2 minutes. Add the cherry tomatoes, paprika and cooked chicken to the pan and cook 2 minutes. Add the stock, tomato paste and hot sauce and stir to combine. Simmer for 10 minutes, then remove from heat.
Pour the chicken mixture into a 9-inch pie pan.
Stir half the blue cheese into the mashed potatoes. Top the chicken mixture with mashed potatoes, then sprinkle remaining cheese over top.
Bake 30 minutes until potatoes are golden. Remove from over and sprinkle fresh chives over top. Serve hot!
Recipe by
Flying on Jess Fuel
at https://www.jessfuel.com/2014/08/24/src-buffalo-chicken-shepherds-pie/