Fried Green Tomatoes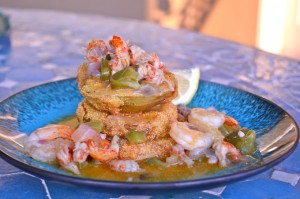 Author:
Flying on Jess Fuel
1 cup flour, divided
2 eggs, lightly beaten
1 cup buttermilk
1 cup cornmeal
1 tsp salt, plus more for sprinkling
1 tsp pepper
5-6 large green tomatoes, sliced about ⅓-inch thick
Vegetable oil, for frying
Set up an assembly line with three wide, shallow bowls. Fill the first bowl with half the flour. In the second bowl, combine the eggs and buttermilk. In the third bowl, combine the cornmeal, 1 tsp salt, pepper and remaining flour.
Sprinkle tomato slices with salt and let them sit on paper towels or a baking rack to drain excess moisture, about 15 minutes.
Meanwhile, heat about ½ an inch of oil in a large, deep skillet over medium-high to high heat. When oil is hot (ideally 375 degrees, but I guesstimate-- not sizzling, turn it up; browning too fast/burning, turn it down), dip the tomato slices in the flour, then the egg mixture, then the cornmeal mixture. Coat thoroughly, then carefully lay them in the pan. Fry about 2 minutes on each side, or until golden brown.
Drain on paper towels. Serve immediately, preferably covered in etouffee!