Sun-Dried Tomato and Basil Pasta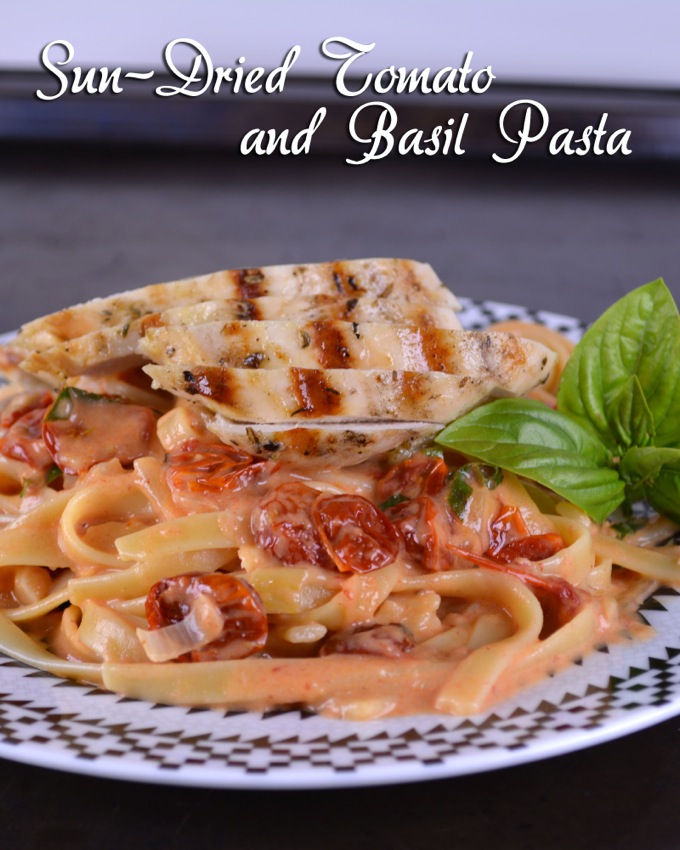 Author:
Flying on Jess Fuel
1 cup sun-dried cherry tomatoes, not packed in oil
¼ cup olive oil
1 medium onion, diced
4 cloves garlic, minced
½ tsp crushed red pepper flakes
¼ cup flour
1 cup dry white wine
1 cup chicken stock
1 cup crushed tomatoes
2 tbsp butter
½ cup heavy cream
½ cup fresh basil, chopped
Salt & fresh ground pepper, to taste
1 lb linguini or other long pasta, cooked al dente and drained
Grilled chicken breasts, for serving (optional)
Reconstitute the sun-dried tomatoes by pouring boiling water over them and letting sit for 10 minutes. Drain tomatoes and set aside.
Heat olive oil in a large saute pan over medium-high heat. Add the onion, garlic and red pepper flakes and cook until onion is softened, about 5-7 minutes.
Add the flour and stir, coating onion mixture. Continue cooking 3 minutes, stirring frequently.
Add the reconstituted sun-dried tomatoes, stir, and cook an additional 5 minutes.
Deglaze the pan with the white wine, and cook 3 minutes.
Add the chicken stock and crushed tomatoes. Bring to a boil, then reduce heat and simmer until sauce has thickened, about 10-15 minutes.
Add the butter and heavy cream and cook until butter is melted and everything is combined.
Remove from heat and stir in fresh basil. Season with salt & pepper, to taste.
Add the cooked linguini and toss to coat with sauce.
Serve immediately, topped with sliced grilled chicken breasts, if desired.
If you can't find sun-dried cherry tomatoes, you can use larger tomatoes chopped into bite-sized pieces.
Recipe by
Flying on Jess Fuel
at https://www.jessfuel.com/2014/08/06/sun-dried-tomato-and-basil-pasta/