Homemade Sun-Dried Cherry Tomatoes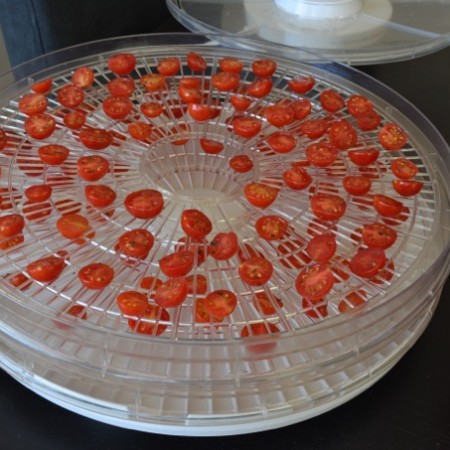 ~3 cups cherry tomatoes, halved
2 tbsp extra virgin olive oil
1 tsp salt
2 tsp Italian Seasoning (or a mix of your favorite dried herbs: basil, oregano, sage, etc)
In a large bowl, toss halved cherry tomatoes with olive oil, salt and herbs.
Place cherry tomatoes cut-side up on the racks of your dehydrator.
Turn on the dehydrator (mine does not have heat settings, but if yours does, set it to 135-140 degrees).
Flip the tomatoes after 5 hours and continue checking them every couple hours after that.
Depending on the temperature and efficiency of your dehydrator and the water content of your tomatoes, it may take 6 to 12 hours to completely dry your tomatoes.
Leave the tomatoes in the dehydrator until they are completely dry.
Remove, let cool completely, and store in an airtight container at room temperature.
Recipe by
Flying on Jess Fuel
at https://www.jessfuel.com/2014/07/11/homemade-sun-dried-cherry-tomatoes/