Greek Quinoa Salad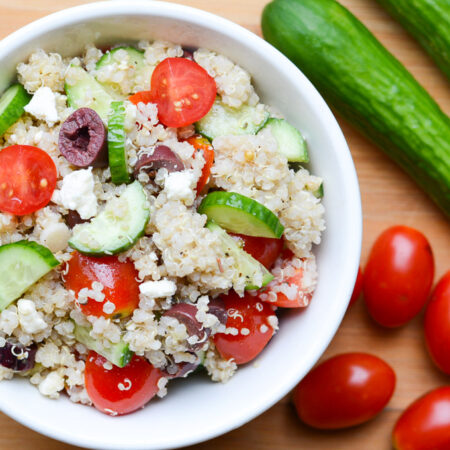 1 cup vegetable stock
¼ cup water
1 cup quinoa
1 cup cucumber, diced
1 cup green pepper, diced
⅓ cup scallion, sliced (or diced red onion)
1 cup grape tomatoes, quartered
⅓ cup Kalamata olives, pitted and roughly chopped
2 tbsp red wine vinegar
1 tbsp extra virgin olive oil
1½ tsp dried oregano
1 cup feta cheese, crumbled
In a medium pot, bring the vegetable stock and water to a boil.
Add the quinoa, reduce to a simmer, cover and cook 15 minutes, stirring occasionally.
In the meantime, combine chopped vegetables in a large mixing bowl.
Add oil, vinegar and oregano and toss.
When the quinoa finishes cooking, let it cool to room temperature, then add to the vegetables and toss.
Finally, add the cheese and toss everything together.